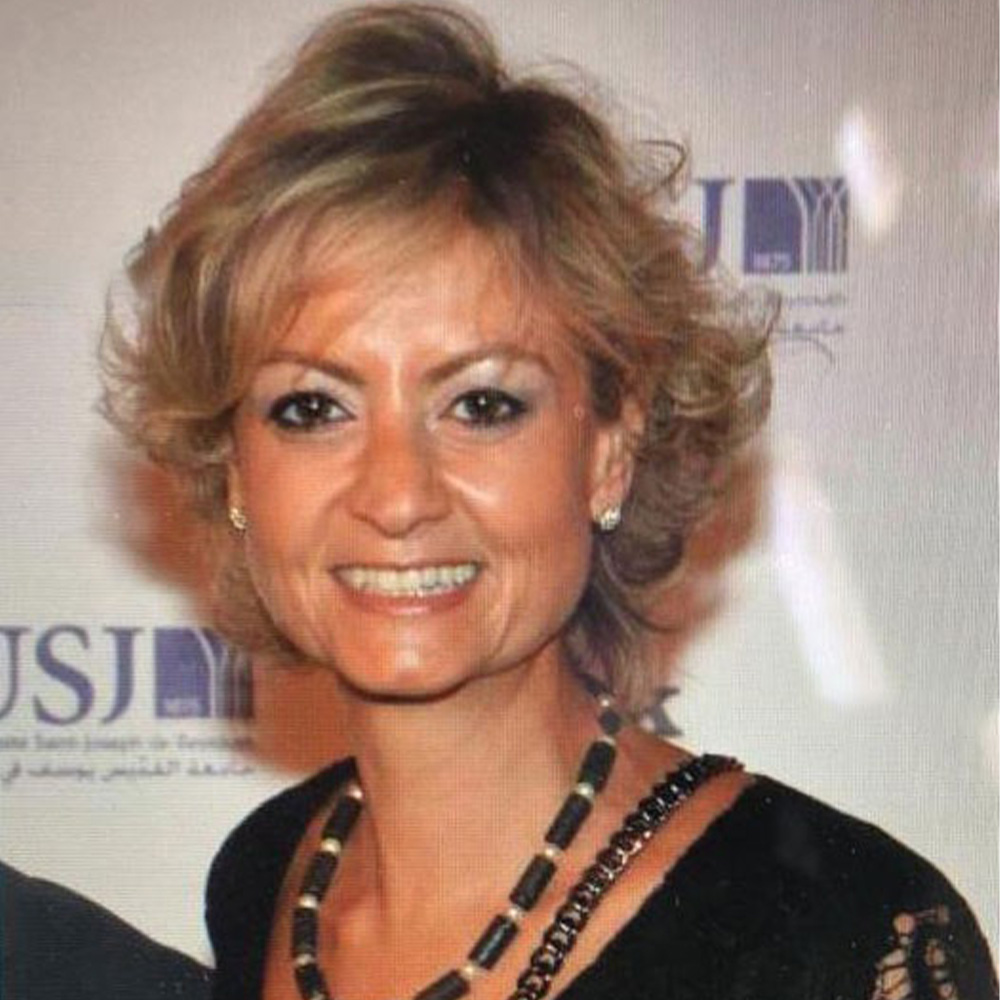 Cynthia-Maria
Ghobril Andrea
Director
University Saint Joseph of Beirut - Fondation USJ
Lebanon
Cynthia Maria Ghobril Andrea has been appointed Director of the "USJ Foundation" July 1st, 2020. Her mission is twofold: to develop a fundraising strategy in order to sustain the university's development and outreach and to strengthen a philanthropic culture within the USJ community. The Foundation is the main body within the university, entitled to raise funds to support the needs of its students, its community and its hospital, Hôtel-Dieu de France (HDF).
Cynthia Ghobril Andrea has a track record of 25 years of experience as USJ's Director of the Publishing and Communication Department. She is an expert in corporate and event driven communication; she is also a practiced professional in public relations and brand management.
In 1995, she founded USJ's Publishing and Communication Department and remained at its head until 2020. She was in charge of a team of 16 people covering: communication, graphic design, web, press and social media. She steered the university's media, editorial and visual strategy and carried out USJ communication and brand management campaigns.
Fluent in French, English, Arabic, Italian and Spanish, Cynthia holds a Masters in Sociology and Public Relations (USJ), an MBA in Business Management (Université Paris Dauphine/USJ). Her professional training includes a professional diploma in Mediation (USJ) as well as in Communication (CELSA, Paris IV Sorbonne).
She has been an active member of ARCES since 2002 and a member of EUPRIO since 2009. She participates in their seminars, master classes and European research projects.
Since February 2020, she has been undergoing professional training and has joined the French Association of Fundraisers (AFF), as well as the American CASE Fundraising Institute.
In April 2022, she was invited as a speaker, "Acting together, here and everywhere", at the annual seminar of the "Centre Français des Fonds et Fondations (CFF)" in Annecy, France.
In 2011 she is awarded the French Republic's distinction "Chevalier dans l'Ordre des Palmes Académiques".
Role and Challenges of Communication Directors in university fundraising
The role of communication directors in universities has evolved over the years. Initially, communication directors were responsible for creating and disseminating information about the university's activities, events, and achievements to stakeholders. However, the current communication directors' role goes beyond that.
Communication directors are now key players in the fundraising activities of universities. This session aims to explore the relationship between communication directors and fundraising activities in universities and the challenges they face in this role.
Communication directors are essential players in fundraising activities in universities. Fundraising activities in universities are typically aimed at securing financial resources to support various university activities, such as research, infrastructure development, scholarships, and faculty recruitment, among others. These activities require significant financial resources, and universities often rely on donations from individuals, corporations, and foundations to fund them.
Communication directors play a critical role in the fundraising process by creating and executing effective communication strategies to engage potential donors. The success of a fundraising campaign depends on how well the university communicates its goals, vision, and achievements to donors. Communication directors are responsible for crafting messages that resonate with donors' values and motivations, creating marketing materials that highlight the university's unique selling points, and using various communication channels to reach potential donors.
Communication directors also work closely with development officers and other fundraising professionals to identify potential donors, cultivate relationships with them, and secure donations. They often collaborate with other university departments, such as alumni relations and marketing, to create comprehensive fundraising campaigns that target specific donor groups.
A successful fundraising campaign and communication plan should take into account the target audience, clear messaging, multiple channels, appreciation, regular communication, success stories, giving options, collaboration with stakeholders, emotional connection, and evaluation and adjustment. By following these tips, private universities can build strong relationships with potential donors, promote their needs and achievements, and maximize the benefits of giving. USJ case study following the Beirut port explosion with the launch of the "Emergency and Solidarity Fund" with 4 fundraising campaigns.
While communication directors play a critical role in university fundraising, they also face various challenges in this role:
1. Balancing the needs of different stakeholders: Communication directors must balance the needs and interests of various stakeholders, such as donors, faculty, students, and university administrators. This can be a challenging task, as each stakeholder group may have different priorities and expectations.
2. Measuring the impact of communication efforts: Communication directors must demonstrate the impact of their communication efforts on fundraising outcomes. This can be difficult, as the impact of communication on fundraising is often difficult to measure.
3. Adapting to changing communication trends: Communication trends are constantly evolving, and communication directors must adapt to these changes to remain effective.
4. Building and maintaining relationships: Communication directors must develop strategies to cultivate and maintain donor relationships, which can be time-consuming and challenging.
In conclusion, Communication directors play a crucial role in university fundraising activities. They create and execute communication strategies that engage potential donors, collaborate with other fundraising professionals to identify and cultivate donor relationships, and work closely with various university departments to create comprehensive fundraising campaigns. However, they also face various challenges, such as balancing the needs of different stakeholders, measuring the impact of communication efforts, adapting to changing communication trends, building and maintaining relationships, and communicating complex information. Addressing these challenges requires creativity, innovation, and effective communication strategies to ensure the success of university fundraising activities.