The European Ranking of Engineering Programs will be launched in Brussels on November 17, 2023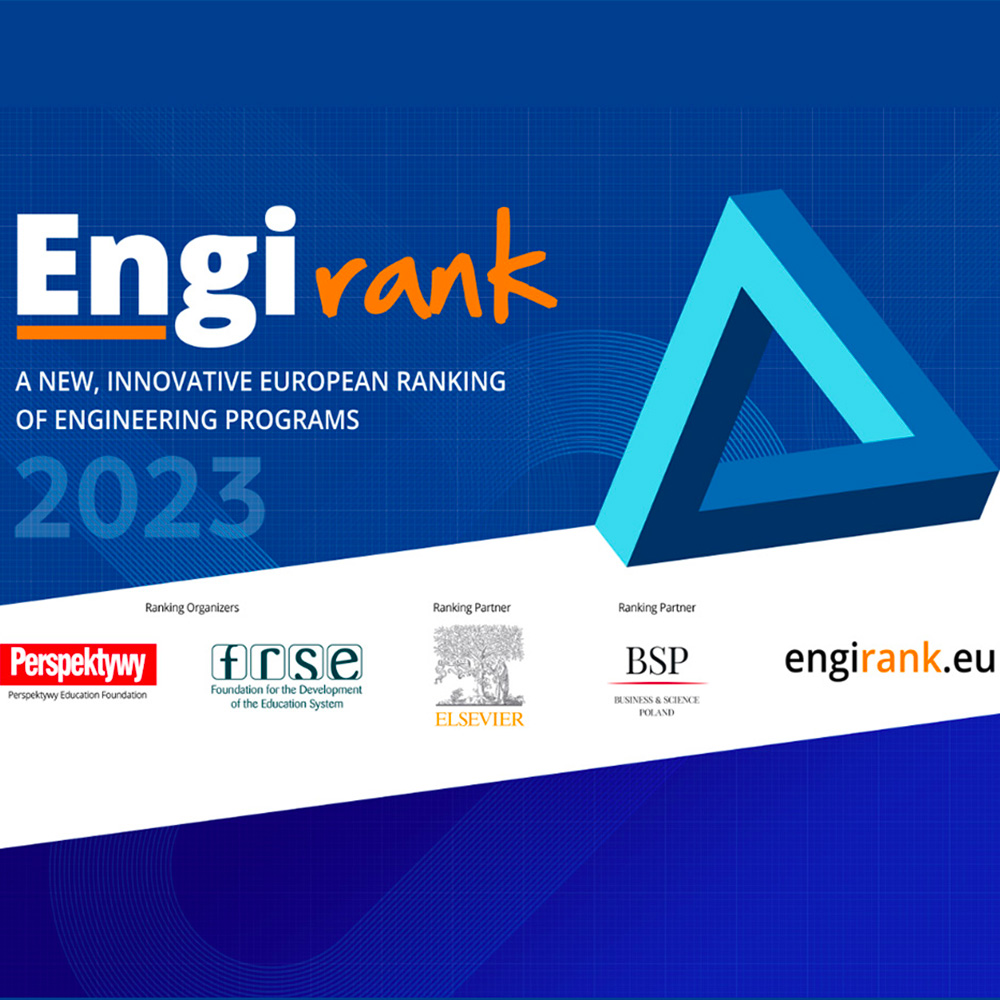 The first edition of the European Ranking of Engineering Programs or EngiRank will be published in Brussels, Belgium, on 17 November 2023. EngiRank is a new type of ranking, it combines regional approach with a focus on the research, and on education of competent and creative engineers. EngiRank will cover universities and engineering degree programs in all 27 countries of the European Union.
It is our pleasure and a privilege, on behalf of the organizers and partners, to invite you to the upcoming European Ranking of Engineering Programs award ceremony:
Date: November 17th, 2023
Location: Brussels, Belgium
Venue: Science & Business Poland, Rue Belliard 40, 1040 Brussels, Belgium
Time: 10.00-13.00
RSVP avant le 15 Novembre 2023: k.bilanow@perspektywy.pl
Agenda for November 17th:
10:00 Welcome coffee
10:30 Opening and welcome remarks from the organizers and partners
10:45 Engineering education and challenges facing Europe – discussion panel with invited speakers: Rectors of the best European universities of technology and representatives of industry/engineering organizations
12:00 EngiRank 2023 Awards Ceremony / presentation of diplomas
13:00 Light lunch
Engineering education plays a key role in securing sustainable development of Europe, it is vital in creating innovative technologies and educating creative engineers capable of using science to solve problems but also aware of the social consequences of their actions. To meet these challenges in the age of growing internationalization of the industry, labour market and education, we need a tool to compare the quality of engineering offered by the European universities. Rankings of universities and programs have become serve as such a tool for comparing and assessment understood by a broad range of stakeholders.
EngiRank will assess and classify European universities of technology, and will also compare the main disciplines of engineering education (rankings "by subject"). This will contribute to popularization of the new teaching methods and help meet the needs of ranking's main stakeholders.
The EngiRank has been initiated and prepared by the Warsaw based "Perspektywy" Education Foundation. The main partner of the project is the Foundation for the Development of the Education System – FRSE (Poland's National Agency of the Erasmus+ Program, and the European Solidarity Corps), and Elsevier Publishing House that provided significant data support in the preparation of the ranking.
We will be delighted if you would be able to take part in our event, on November 17th.
RSVP avant le 15 Novembre: k.bilanow@perspektywy.pl